In this simulation, there are two different ways to turn the knobs displayed on the G1000 units.

Preferred Method - Mouse Wheel

By far, the easiest way to operate the G1000 knobs is to simply hover your mouse pointer over one of the large mouse-wheel regions defined over and around each knob, and roll the mouse's scroll wheel. (See red circles in the picture below).

When you use this method, you do not have to click on a specific increase(+) or decrease (-) area. Instead, you can simply hover your mouse over the center of a knob and then roll the mouse wheel up or down to rotate the knob. If the control has both an "inner" and "outer" knob, the outer knob is controlled in this same way by hovering your mouse pointer outside the perimeter of the knob and roll the mouse wheel to turn the outer knob. (Pushing a knob that also has push capability is accomplished by simply clicking on the center of the knob).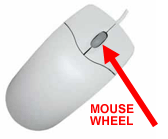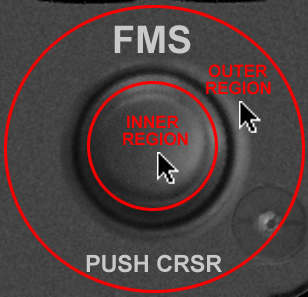 Alternate Method - Mouse Click
The other method you can use is to attempt to click on "click regions" designated for "increase" or "decrease" functions for each knob. Due to the limited space on the G1000 screen, this method is often more difficult than the simple mouse wheel method described above, but it's the only way when you don't have a mouse wheel. All dual-axis knobs use the click pattern shown below, while single-axis knobs use just the boxes designated INR (inner).