Overview

Our avionics software products are used in certified and non-certified simulators worldwide. We have three different licensing levels, Basic, Advanced and Professional. The links found on the product pages of our website are only for the Basic editions. We have created this page to help you decide which license will best suit your needs.
Basic Editions - Home Users Only
The Basic edition offers some limited hardware interface capability (like when you have a few hardware knobs and buttons, or a keyboard that you want to use to control the software). Home users who use a desktop or laptop computer with no avionics hardware, or if you use consumer-grade Saitek or similar hardware, the Basic edition is all you need.
If you operate as a hardware vendor selling simulators or simulator-related hardware, or if you are a home user and require extensive hardware control capabilities, you must purchase either the Advanced or Professional editions, depending on which features you are attempting to utilize. (See the chart at the bottom of this page for more details.) An Advanced or Professional license is required if you are operating hardware devices that simulate an entire avionics unit like the G1000, GNS430, GNS530, or Avidyne Entegra. (For example, Noble, Emuteq and SimKits devices, or others similar to them).

Note: The Advanced or Professional Edition of our avonics are required if you are using external hardware from third party providers such as RealSim Gear, Noble Flight Simulation or Emuteq based on the guidelines below. The home edition of RealNav Data can be used with these units running the advacned edition of avionics. Professional Edition avonics user require RealNav Data Pro.

Advanced/Professional Pricing for Simulator Hardware Vendors

For simulator hardware vendors, the price for both Advanced and Professional editions is based on a percentage of the full retail price of the simulation device in which they are being bundled or used. In addition to the percentage calculation, each edition has a "minimum licensing price" that the percentage calculation cannot fall below.
- Hardware vendors interested in bundling or using our software with your hardware, contact us.
Advanced/Professional Pricing for Home Users

For home users who require features that are only avalable in Advanced or Professional editions, the price is simply a fixed price which is the same as the "minimum licensing price" designated for each edition.
- Home users interested in purchasing Advanced Editions of our software, please visit the advanced edition order page.
- Home users interested in purchasing Professional Editions of our software, please contact us.
Professional Editions cannot be purchased from our website. More information on pricing can be found here.
Governmental Certification (FAA, CAA, etc)

Customers seeking governmental certification of any kind for their simulator, in any country, must use the Professional Edition. You must also comply with certain additional regulatory and contractual requirements as described in our professional license agreement.
- For Professional/Certified simulator vendors interested in bundling our software with your devices, contact us.


Features Chart for Basic, Advanced, and Professional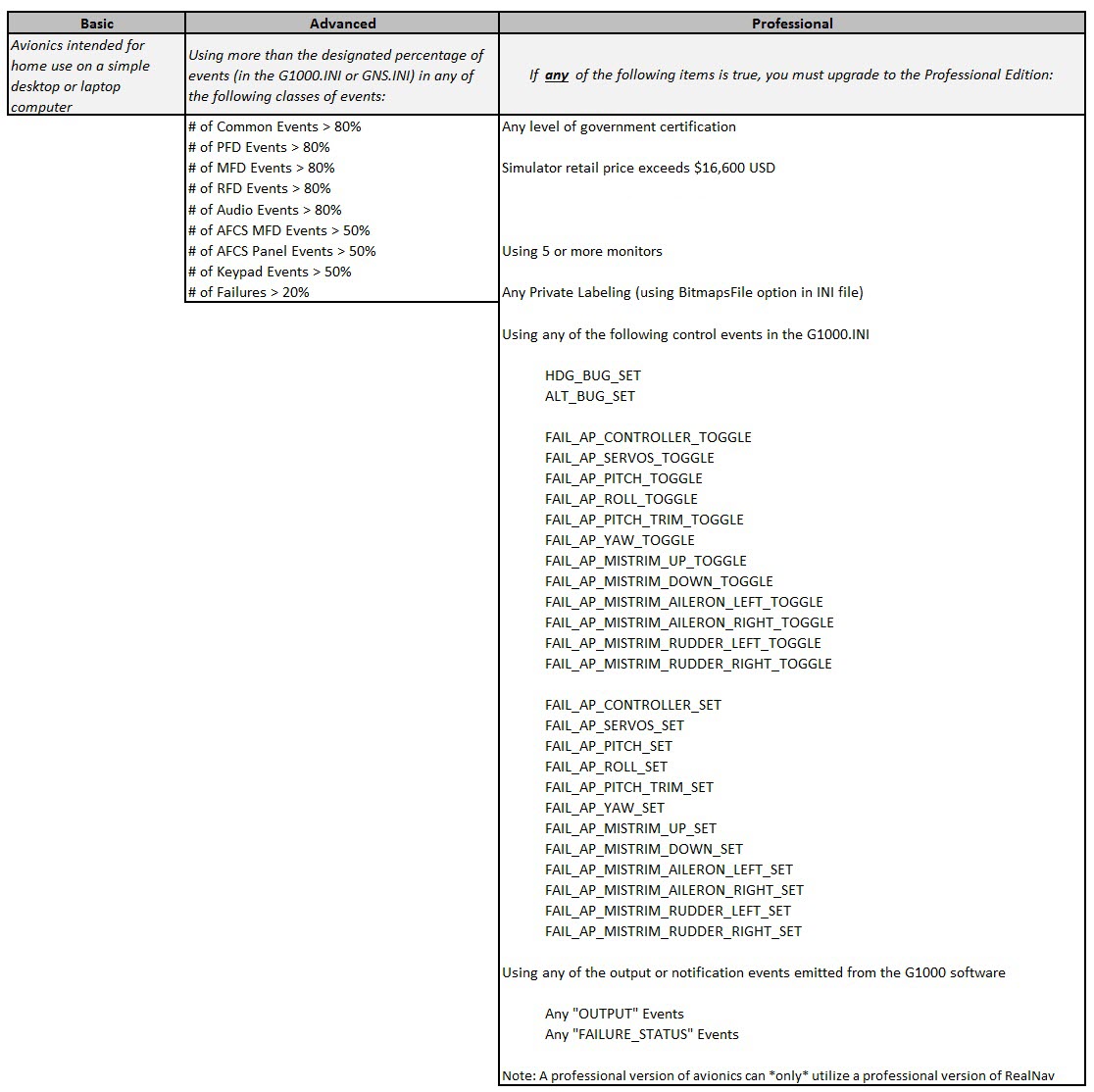 Software License Pricing Calculator For Advance and Professional Editions