If you have already installed one of our products....
... and you need us to remotely connect to your computer to assist you, please launch the remote support program located in the folder "C: \ Program Files (x86) \ Mindstar \ Tools" named "MindstarRemoteSupport_xxxxxxxx.exe". (The actual file will show a sequence of numbers in letters in place of the "xxxxx" shown here).
Just launch that program by double-clicking on it, and then send us an email telling us the ID and password displayed in the remote support window (see example below). If we need to communicate with you during the remote session, we will type messages to you on the screen. For security reasons, once you terminate that remote support program, we are no longer able to connect to your PC, and the password will automatcally change to a new number.
IMPORTANT: If you do not see a sequence of letters and numbers where we show the "xxxxxxxx" above, or if the remote support program launches but doesn't show you an ID number, then please use the instructions in the next section below titled "If you have not yet installed one of our products"
If you have not yet installed one of our products...
...and you need remote assistance with installing our software, you can still download the remote support program below and launch it this way.
1. Download the "Quick Support" program by clicking this link.
2. When you launch the program, it will display the screen shown in the example below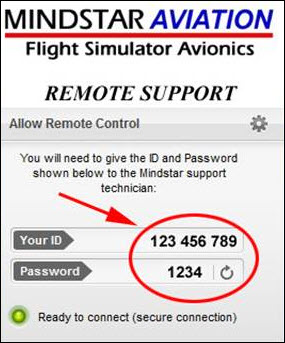 3. Email the support technician the ID and Password numbers shown on the Remote Support screen.

4. Please ensure the a green color light with the words "Ready to connect" appears. It's ok to minimize the shown application window, but DOT NOT close the window as that will shut down the connection.